Updated Coaching Carousel
The Chicago Bears have announced that they have hired Kansas City offensive coordinator Matt Nagy. 
Nagy was a hot commodity. He has been under Andy Reid since 2008 when he was a coaching intern here in Philadelphia. We knew the Bears would be going with an offensive mind, but thought John Defilippo would be the choice. 
How this affects the Eagles: The hiring of Nagy should make the Bears more competitive. Nagy coached with Pederson in Philly and KC, so we may see a very similar offense in Chicago. This hire obviously increases the chances that Defilippo returns next season. 
Speaking of Andy Reid.. 
Do not ever forget this, Philadelphia.
As you know by now, Jon Gruden signed a massive 10 year, 100 million dollar deal to become the next Raiders coach.
How this affects the Eagles: It really doesn't affect the Eagles much. It will be three more seasons until they play Oakland again, unless they meet in a Super Bowl.
I personally love this move. It will be great to have Gruden back on a sideline, especially the Raider sideline. My hope is more legends come back. It makes the league much more interesting.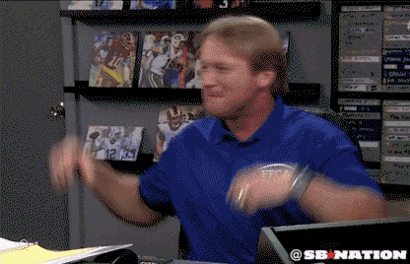 There are still four remaining openings, although the Titans may have been looking to replace Mike Mularkey had they lost on Saturday. Let' update our coaching predictions.  
New York Giants
Current Candidates: Jim Schwartz, Matt Patricia, Josh McDaniels, Steve Wilks. 
Updated Prediction: Jim Schwartz 
I am changing my prediction to Schwartz. Everything I read has Patricia coaching Detroit next season, so that leaves me to believe Schwartz will be the likely hire in New York. While Giants fans have convinced themselves that Bill Belichick will be their next coach... 
.. I certainly can't see it. I am thinking Schwartz ends up with this job. McDainels and Wilks could certainly still be in play as well. This hire will obviously affect the Eagles the most, especially if they hire Schwartz.
Detroit Lions
Current candidates: Matt Patricia, Steve Wilks
Updated prediction: Matt Patricia 
This seems like a formality at this point. I thought the Giants would put the full-court-press on the New England assistants, but Detroit is the favorite to land Patricia. Regardless of who they ultimately hire, it should be defensive minded coach. 
Arizona Cardinals 
Current candidates: Everyone
Updated prediction: Pat Shurmur 
I will stick with Shurmur here. I like the Shurmur/ Bradford theory for the Cardinals. However, they could go with a defensive minded coach. Defilippo and Schwartz are strong candidates for this job as well. 
Indianapolis Colts
Current candidates: Josh McDaniels, Dave Toub, Steve Wilks.
Updated prediction: Josh McDaniels 
I had Dave Toub as the next coach for Indy, but McDaniels would be a big splash for Jim Irsay. With the issues in New England maybe McDaniels is ready to get out of there. A healthy Andrew Luck should peak any potential coaches interest. Toub could still be very much in play, especially now that KC has been eliminated from the playoffs.



Please reload