Attention: Last call for the Wentz Wagon
After a week one win in Washington, I wrote and advocated that it was okay to be excited. 
After the win in LA, I asked "can you feel the magic?" 
And now, I am telling you that it is last call for the Wentz-wagon. 
The doors are closing and there is only one stop- SUPER BOWL.
Our Philadelphia Eagles are 5-1. 
Let that sink in. 
They just beat a very, very good Carolina team, in Carolina.
This victory was many things but most importantly this victory was Carson Wentz telling the rest of the NFL what Barkhad Abdi told Tom Hanks in Captain Phillips; I'm the captain now!

I mean, with all due respect, if you aren't on board with Carson Wentz, you're lost. This kid is a super star. 
He has this team at 5-1.
5-1 after six games, four of which were on the road!
Are  you kidding me? 
I live in the here and now, and I took a lot of heat for my "bold" prediction of 11-5 after week 1.
Well, you know what eagles fans?
Here is a new prediction: The NFC Championship will be hosted in South Philadelphia, inside Lincoln Financial Field. 
And the Eagles will beat GB/Sea/ATL/Carolina or whoever the hell they play. 
Yes, I have the Eagles in the Super Bowl.
I have them beating the Patriots and finally getting revenge from 2004, when the patriots had to videotape the plays to win. 
(Yes, I am a grudge holder and no I am not over it. F you Bill Belichick).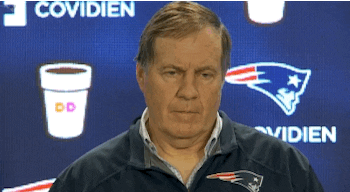 "But Matt, you literally just said they can't get over the hump on the Glockcast."
I know, I know. I don't like to admit this often, but  I WAS WRONG. This Eagles team is not just good, this team is GREAT.
The talent is there (minus the corners but even that's getting better.)  
The play calling is there.
The special teams is there. 
BTW,  can we talk about how good Jake Elliott is? This kid is only on the team because of the Sturgis injury and all that he does is drain long field goals- Stud. 
Carson is an MVP candidate- Stud.
Doug is a coach of the year candidate- Stud. 
Blount, who Rueben Frank said doesn't want to be here- Stud.
Honestly Rueben, just go eat a cheeseburger and take the year off, please.
Actually, I retract that. Just admit you were wrong!! 
Just like Jeff McLane, who wrote a story hours before the opening game, about how turmoil awaited the 2017 season. Just admit you were wrong!!! 
You know what, Mouthpiece has an invitation for you: We invite you to hop aboard the Wentz-wagon once and for all.
Last chance.
Leave the negative opinions for someone that cares. 
We Believe!!
There is no room for negativity on the Wentz Wagon, sorry. 
This is a top 5  team in the NFL and NOW my pick to hoist the Lombardi Trophy. 
It's last call: ALL ABOARD THE WENTZWAGON!!! 

It's going to be a fun ride!  



Please reload